WHO WE ARE
We take our business seriously and are passionate brand ambassadors. Established in 2014 and operated under Radtrax, recently changed to ScooterX, we have been offering Pro level stunt scooters for kids and adults for over 7 years! We are now the leading Pro Scooter Shop in South Africa. With over 5 major international exclusive brands and growing, we offer the best price to quality ratio as well as choice in the market.
We pride ourselves on offering all our products with a peace of mind EN14619:2019 certification. These tests are conducted by the highest authorities in the European Union for all our major brands and need to conform to certain strict standards set by the EU. These include: Static load tests, high impact drop tests, endurance testing, and material effectiveness and strength. It is the reason why we have not had a single returned, broken scooter in the 7 years of trading.
Whether the factory is ISO certified or not, without the EN14619:2019 certification you are not guaranteed that the scooter is manufactured with the same grade aluminum or quality as our leading brands. 1 in 5 customers purchasing from us have had a broken scooter or poor service elsewhere.
All scooters we stock are offered with full spares and parts as well as upgradable. Taller bars - no problem. Trade-ins are offered when upgrading.
Feel like reaching out for advice? Call Paul, Megan or Deraldo on 082 655 5754 or 081 461 7263, or pop into our retail concept store in Cape Town. Joburg branch on the cards!
Test ride one of demo Pro Scooters right here at our RadZone Freestyle Park. Hit a jumpack or bounce around on the INDO trampoline. Rental options also available. See you soon!
USER TIPS & TRICKS
We know you are super excited to start scootin' but make sure you watch the below user videos and tips to ensure you assembled your scooter correctly, to get the best riding experience!
THE NEW RADZONE PUMPTRACK AND FREESTYLE PARK!!
RADZONE 1
The Radtrax Pumptrack finally found its home at RadZone 1
Bring your bike/scooter/skateboard or rollerblades along and jump on the track!
2 hours - R50 | Full day R75
No bike? No worries!
Bikes and Scooters are available for rental.
Scooters R35 | Bikes R75
Sign in at The Scooter Café, Shop UG03, Nobel Park Shopping Centre, Quarry Road, Bellville, 7530.
Visit www.radtrax.co.za for more!
Operating hours
Mon - Fri: 09:00 - 16:00
Sat: 09:30 - 14:00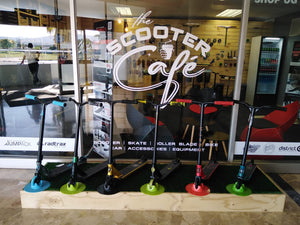 ScooterX found its home at The Scooter Café
Browse our menu!
Visit us at Shop UG03, Nobel Park Shopping Centre, Quarry Road, Bellville, 7530.
Free delivery to customers situated within the yellow boundary!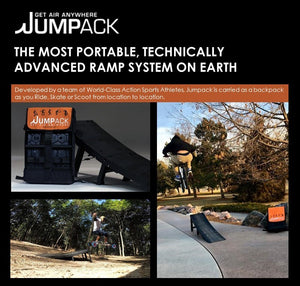 JUMPACK
Your favourite riding accessory that fits in a backpack!
Standard delivery: 2-4 days.
Express delivery: 2 days.
T's & C's apply.
Subscribe to our newsletter
Get notified when new stock arrives!!